Now that we have a firm grasp on bobbins, let's cover the part of the machine required to use them – bobbin cases.
---
What is a Bobbin Case?
As the name implies, a bobbin case is the part of the machine that holds your bobbin when you are sewing. There are two classes of bobbin cases (which I mentioned, but did not explain, in the previous post), "removable" and "inset".
How Do They Work?
A bobbin case, when used with the correct bobbin, will hold the bobbin snugly in place, which will allow the machine to neatly unravel it.
The bobbin case also adds tension to the bottom thread, much like the tension assembly for the top thread. You should never have to adjust the bobbin case tension as the user, so I will not be covering this. This is why it is important to thread the bobbin correctly – when you pull the bottom thread up, there should be resistance on it. If there is not, re-thread the bobbin through the bobbin case.
The top thread will go across the top of the bobbin case, which is why it is so important to use the correct bobbin. If the bobbin is too tall (see my previous post), the thread will catch and seize the machine.
In machines with an automatic thread cutter, the bobbin case also helps keep threads in place to cut. I will cover this in more detail below.
---
Removable Bobbin Cases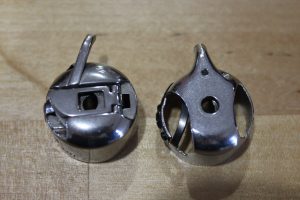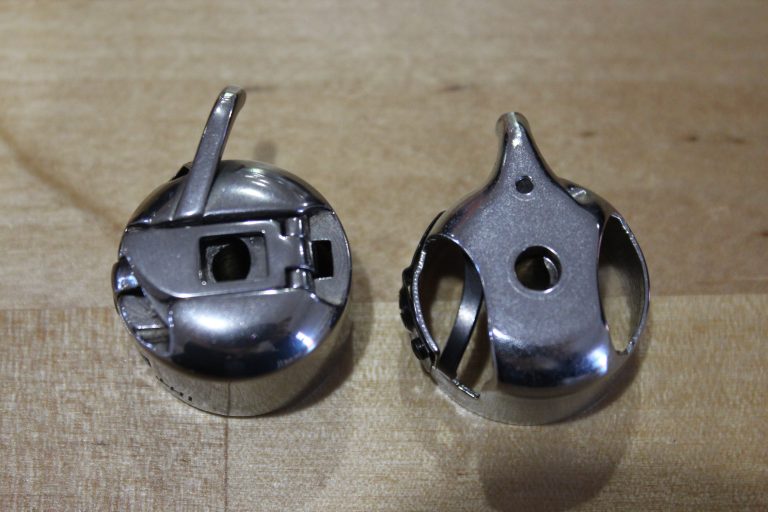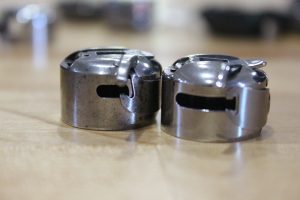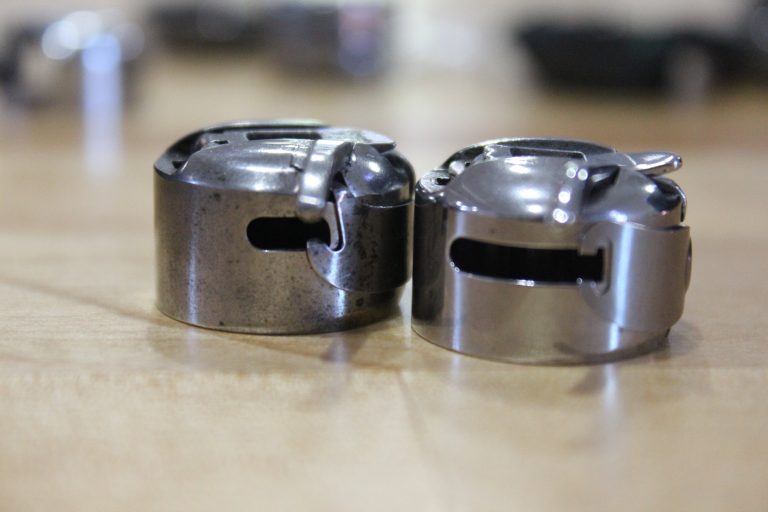 Removable bobbin cases are meant to be taken out of the machine when you replace the bobbin. These can be "front loading" or "side loading". There are a few models of sewing machines that are "reverse loading", but these are very rare. All removable bobbin cases will have a lever or spring that can be held to help remove and replace it.
Front Loading
Front loading bobbin cases are removed and inserted on the side of the sewing machine facing the user. These are the most common on modern machines with a removable bobbin.
Side Loading
Side loading bobbin cases are very similar to front loading. It is important, however, to note that side loading bobbins have a smaller hole at the top of the machine. The needle of your sewing machine will dip down into this hole. A side loading bobbin case cannot be used in a front loading machine, but front-loading bobbin cases CAN be used in side loading machines.  These bobbin cases are somewhat rare in modern (after 1980) machines. Many older machines such as Kenmore, Singer and White have this style.
Things to Consider
The most common removable bobbin case is called a "15 Class" bobbin case. If you read Part One of this guide, you'll notice a similarity in names. These bobbin cases are meant to be used with Metal 15 Class bobbins, unless otherwise noted. There are a few variations of this style bobbin case, but they will always be noted.
---
Inset Bobbin Cases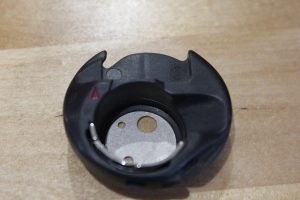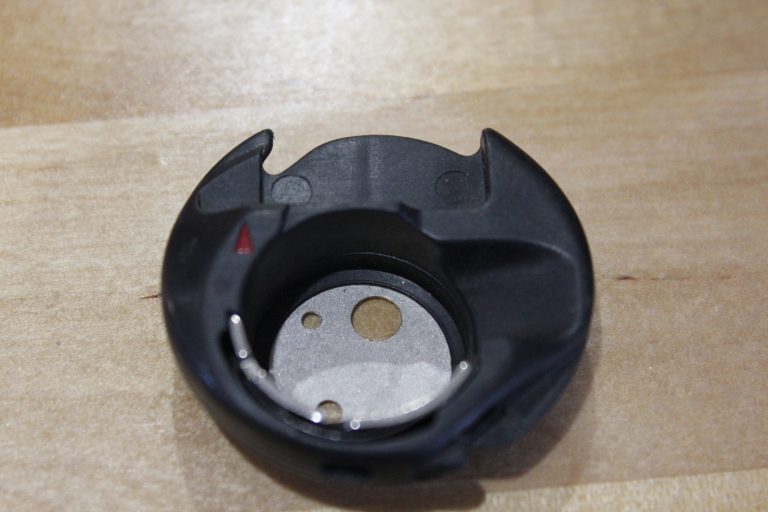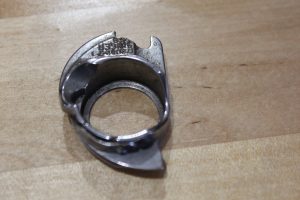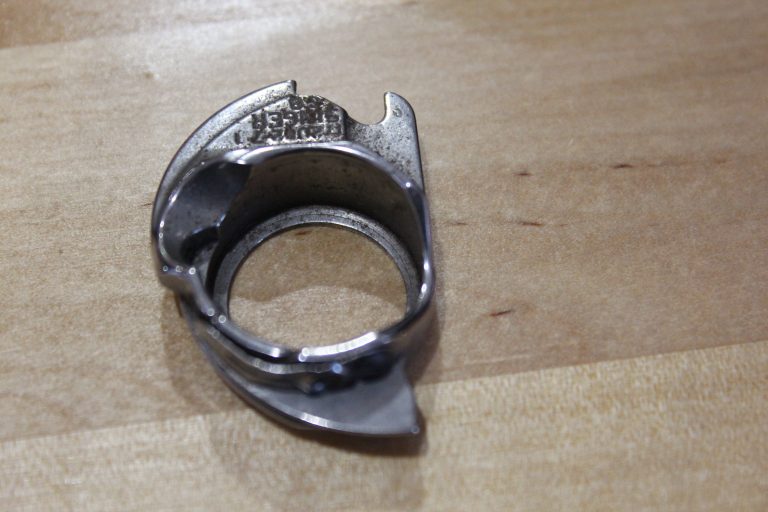 Inset bobbin cases, or "drop-in" bobbin cases, are more common in modern machines. These bobbin cases do not have to be removed from the machine to replace the bobbin. Generally, the customer should never need to take these bobbin cases out. These style bobbin cases face up (sometimes at a slight angle) and are usually right on the sewing surface.
Metal Bobbin Cases
Metal bobbin cases are usually used with metal bobbins. These are more common with older sewing machines; it is very rare to see a metal inset bobbin case in a modern residential sewing machine.
Plastic Bobbin Cases
Plastic bobbin cases are usually used with plastic bobbins. There are many different styles of plastic bobbin cases, so it is important to check your model number when looking for replacements. If your machine is equipped with an automatic thread cutter, you may notice a rectangle with felt-like material on it. Do not attempt to remove this – it is required for the thread cutter to function properly. These bobbin cases also typically have a small metal "finger" on the right side – be gentle with this piece, as it can be bent.
---
Bobbin and Bobbin Case Fit
Let's backtrack for a moment to my previous post. Perhaps you have more than one sewing machine – which means you need more than one type of bobbin. How can you determine which bobbins belong to which machine? You can, of course, look up your machine to determine the bobbin style. Or, you can take a slight shortcut. Below are some examples showing bobbins that do and do not fit in bobbin cases.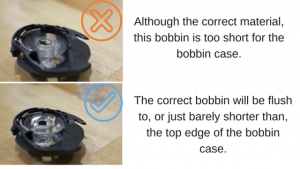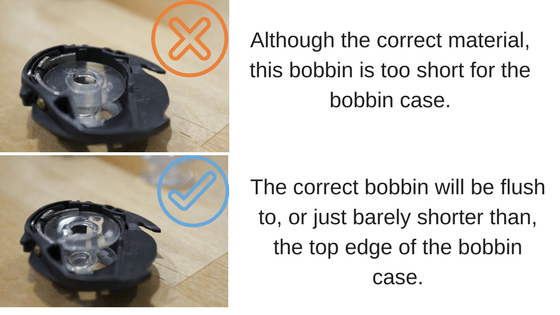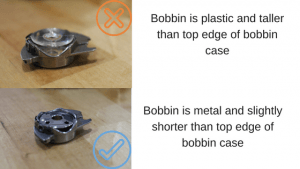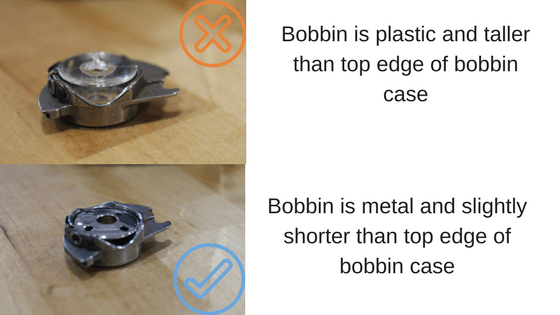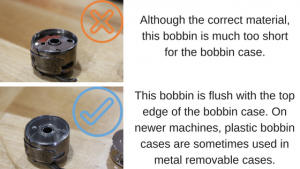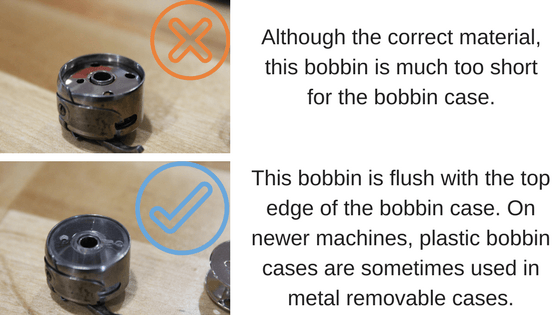 ---
I hope this primer on bobbins & bobbin cases helps you understand how your machine functions. In the future, I will cover more parts of the typical sewing machine – if you want to see something in particular, let me know!
Next week, I will be covering the dreaded tension assembly.
-Sarah