By now, you're probably familiar with most of the adjustments on your machine – tension, stitch length & width, and stitch style. However, you may be forgetting one adjustment: the presser foot pressure (say that five times fast)!
---
What is Foot Pressure?
The presser foot is the part of the machine that holds the fabric securely while the machine sews and feeds it. Depending on the project you are making, you can change these feet – zipper feet, walking feet, and even guide feet are available for most machines. Pressure is adjustable on most, but not all sewing machines. The pressure on the foot makes sure that fabric does not slide or get stuck on the sewing surface.
Evaluating Foot Pressure
Sometimes, foot pressure problems can be hard to diagnose. There are typically two times you need to adjust the foot pressure:
When fabric can move easily on the sewing surface, causing uneven stitch length and making it difficult to sew a straight line;
When it is difficult to move the fabric while free-motion quilting because the foot is holding it in place.
In the case of the former problem, the foot pressure needs to be increased. In the case of the latter, the pressure needs to be reduced.
---
How Do I Adjust Foot Pressure?
Now that we've established why we adjust foot pressure, let's learn how!
Pop Darner Pressure Adjusters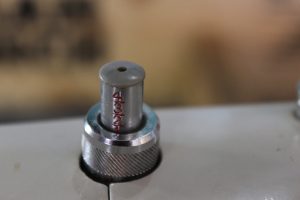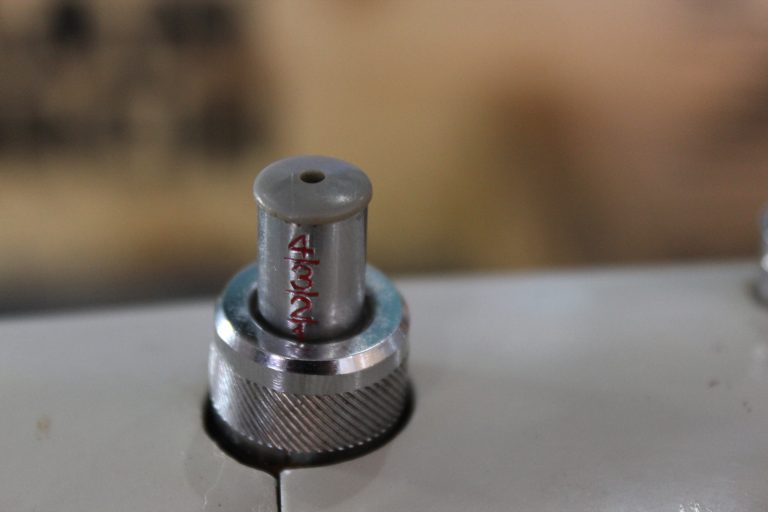 A Pop Darner is a specific style of pressure adjuster – it looks like the photo above. To use it, press the middle post down until you've reached the desired pressure level. Typically, they are marked with numbers. However, the markers can wear off or are sometimes not even provided. You can usually safely set the pop darner to 3-4, or 3/4 depressed.
To release pressure on a pop darner, press the outer ring down. Be careful, as the middle post will "pop" up rather quickly – hence the name.
Screw adjusters are in the same spot (on the top of the machine by the presser bar), but just tighten and loosen to adjust the pressure! The tighter the screw, the higher the pressure.
Dial  Pressure Adjusters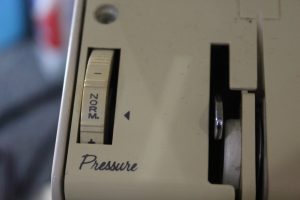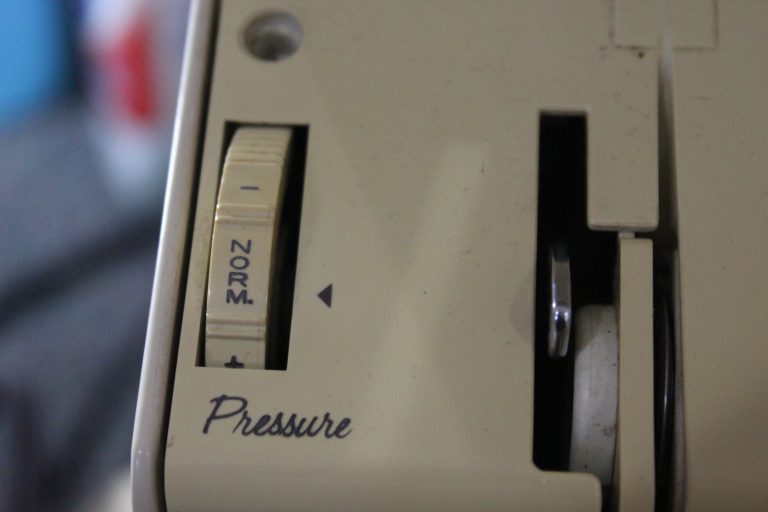 Dial pressure adjusters are a little more intuitive – just move the dial like a tension to where you want it to be! These dials can be on the top/front of the machine (as pictured above), or on the left side cover. On rare occasions, they can be on the back of the machine above the presser bar lifter.
---
That's it, folks! A fairly simple adjustment that can make a world of difference in your sewing!
Did I miss something? Have questions? Let me know in the comments or give us a call!
Sarah