The sun is shining, it's finally spring (maybe summer), and we've been really, really behind on posting. Our rentable space is up and running finally – if you're interested, give us a call or stop by sometime for more information.
Our hours will be changing effective May 19th, so if you're planning a trip down, take a quick look at the hours page.
The Aspenleiter Repair Process
Now onto the good stuff. We get a lot of questions about our repair process from customers. I thought I would explain it a little bit more and make a flowchart for those who are interested.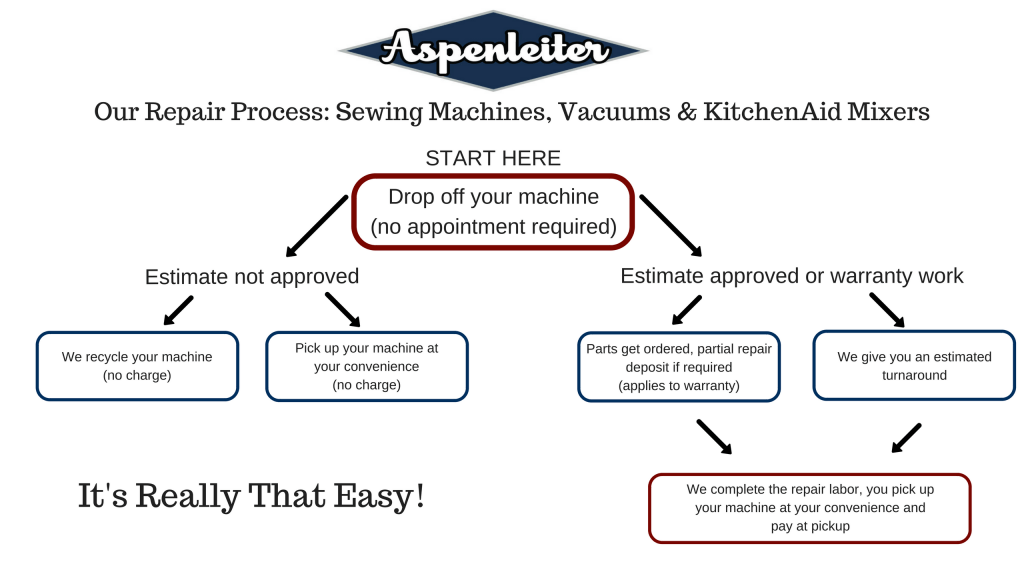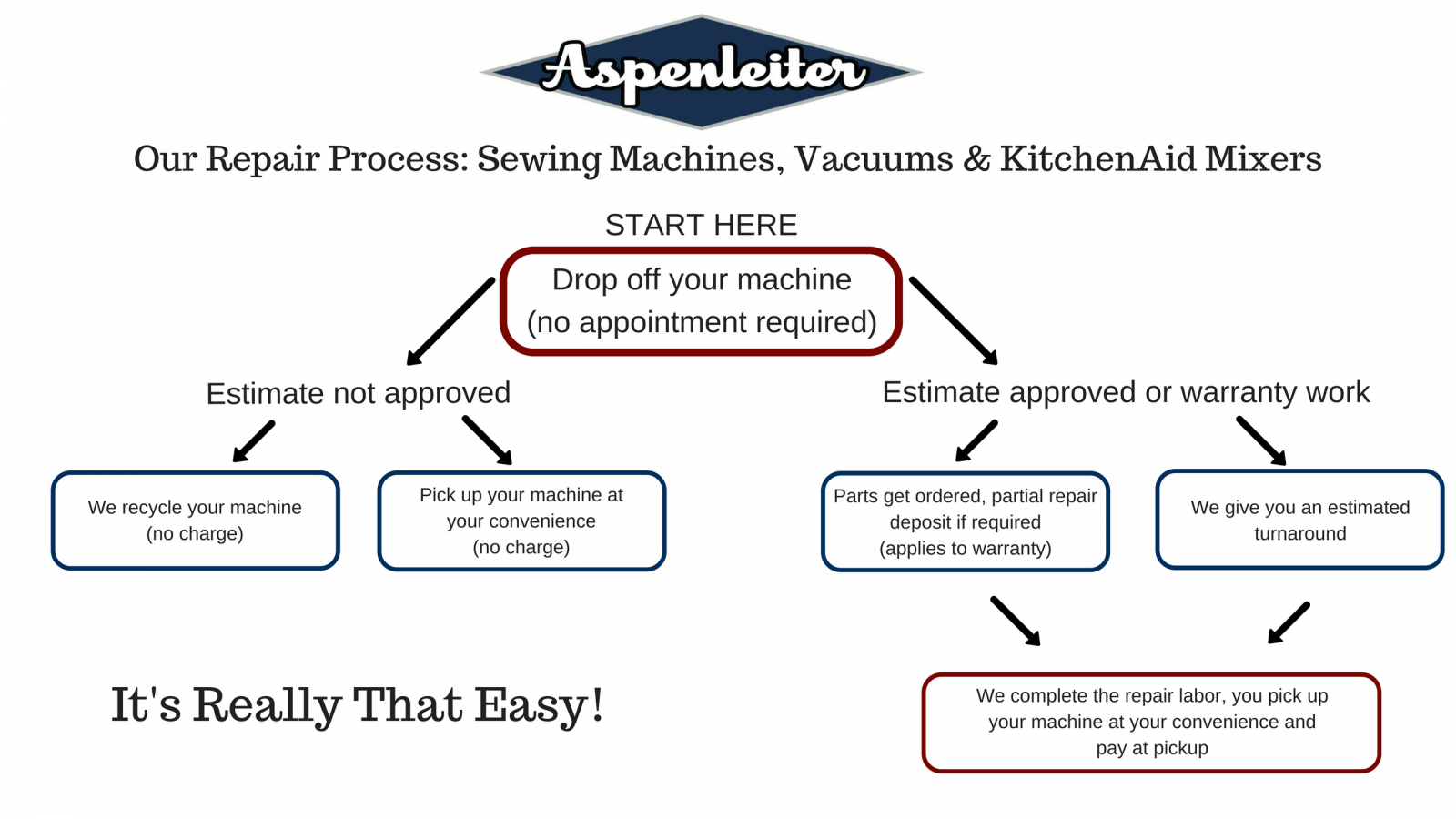 Step One: The first step is really to bring your machine in! There is no need to set an appointment, as any of us can help you out at the front counter. When you bring in your machine, we'll ask you what problems you're having with it and make a note in our computer. We will then take your information so we can contact you. Typically, we will tell you a "ballpark" amount that the repair might be. If we are not sure, we'll write you up for an in-depth free estimate.
Step Two: Part two is the estimate. The in-depth estimate will give us a better idea of the work that needs to be done on your machine. If applicable, this is when we submit your machine for warranty parts and labor. At the counter, we will tell you how long we expect the estimate to take, which depends on our current workload and how complicated the machine is. When we complete the estimate, we will call you to talk about the options. At this point, we will tell you if the machine is worth fixing (in our opinion), what needs to be done with it, and how long it would take to fix. You have as much time as you need to decide.
As we are humans, we sometimes get interrupted and don't get a chance to call. If you don't hear from us on the date we mentioned at the counter, please call us!
When You Do NOT Approve The Repair: If you decide that the machine is not worth fixing, you have two options. You can pick up the machine at your convenience, or we can recycle it for you. Either option is completely free.
When You Approve The Repair: If you decide the machine IS worth fixing, we will order parts as necessary. Most parts take a week to two weeks to receive – but there are exceptions. If we think the part will take longer to receive, we will let you know. Once we have received all of the parts for your machine, we'll start fixing it! If we don't have to order parts, we'll let you know how long the repair will take (we can be inspired by baked goods, of course. Did we mention we fix Kitchenaid mixers?). Once your machine is ready for pickup, we will give you a call and let you know.
Again, if you don't hear from us on the date we mentioned, please call us!
Do not feel rushed to pick up your machine, regardless of your decision. Although we appreciate timely pickups, we understand that life gets in the way sometime. We also understand that some of our customers live rather far away. If you only can take a trip out here on a Tuesday once a month, that's okay.
If you have more questions about the process, feel free to stop by or call sometime. You can, of course, send us a question from the sidebar form as well.
Now, if you'll excuse me, I have some sunny weather to enjoy!
Sarah
P.S. Thanks to the sewing ladies in the back for making me feel welcome yesterday! There really is nothing like getting to spend 8 hours working on projects with other sewing folks.