Ever wonder how your machine makes different stitches with a turn of a knob or click of a button? Today I'm going to get into the nitty-gritty and show you exactly how! As always, every machine is slightly different, so this will be an overview of a very technical aspect of sewing. These parts of the machine never need to be adjusted or replaced as a sewist – if you're having problems with them, bring it to a repair shop!
There are two different assemblies that can be used to create stitches other than a simple straight stitch: the camstack, and the stepping motor.
---
Cams and Cam Stacks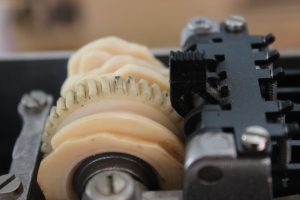 We're going to start in the 1960's – which is when "zigzag" machines became more commonplace. Before this, very few residential machines were capable of doing a zigzag stitch without a separate attachment. All mechanical machines equipped with special stitches use a cam stack assembly – even the new ones! Some cams are metal, while others are plastic.
Cams are the individual pieces that tell a machine how to make a particular stitch. Each cam has only one pattern. Some cams are removable – Singer and Kenmore are known for this. A cam follower is a rod that sits against the cams in the machine – this is connected to a rod that moves the needlebar left and right. Some machines can have multiple cam followers, or just one that moves to the cam you want to use.
Cam stacks are assemblies of multiple cams. The cam stack continuously rotates, moving the cam follower along the pattern. It is important that the cam stack be adjusted properly, or the needle will move while it is still in the fabric! This adjustment is called pendulum timing. Cam stacks rotate even if you are doing a straight stitch – the cam follower just isn't pressed to the cam.
---
Stepping Motors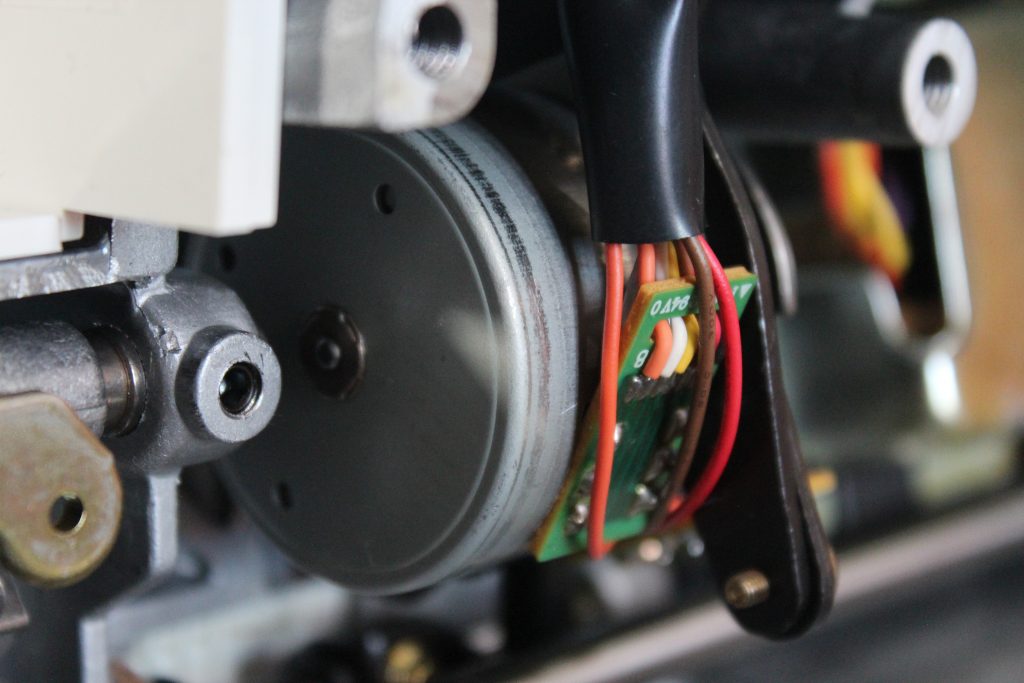 In electronic machines, the cam stack is replaced with something called a stepping motor. Stepping motors are much smaller than cam stacks and can be programmed to make almost any stitch.
Stepping motors are connected to a rod that moves the needlebar left and right, just like a cam follower. However, stepping motors are connected to a main computer board within the machine. The computer board tells the stepping motor to move the rod left or right with electrical signals. Sensors in the machine tell the computer when the needle is high enough to move side to side.
---
Forward & Reverse Stitches
Stitches that move the fabric in both the forward and backward direction are slightly more complicated than just a zigzag stitch.
Mechanical machines have a second cam follower. This second follower has a rod that connects with the stitch length controller, which in turn controls how the feed dogs move.
Electronic machines have a second stepping motor that controls the feed dogs. This motor controls the feed dogs in every stitch – straight, zigzag or otherwise.
---
Different machines have different types of followers, cams, rods and motors. Some can have very simple cam stacks with only one cam, while others can have over 20 cams and followers! Some manufacturers connect the followers and rods in different ways and places than others – going into detail about these would require a very, very large book!
Happy Sewing!