Whether we like it or not, robots are here to stay. With the invention of smart-home devices and self driving cars, it is clear that people value automation and convenience – so why aren't robotic vacuums more popular?
Disclaimer: We are not paid by any company to review, pitch, or talk about their products. All opinions are our own, and come from our years not only selling vacuums, but repairing them as well. This post is purely educational, and our intent is only to inform our readers, not to convince them to buy a product.
---
The Robot Stigma
If you've ever looked up robotic vacuums, chances are you will have seen a lot of conflicting information (and reviews). Let's take a look at top Google searches regarding robotic vacuums: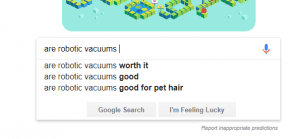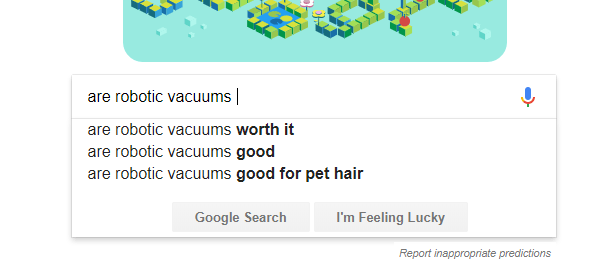 Clearly, people don't trust robotic vacuums all too much! Most of this stigma is from the early years of household robotics. Robotic vacuums were some of the first robots available to the consumer, which means there were a number of issues that needed to be ironed out. To add to this, robotic vacuums can be pretty expensive. I don't know about you, but I don't really want to spend several hundred dollars on something I'm not sure will do a good job.
---
The Rise of Robots
The first robotic vacuum was released in 1996 by Electrolux, but it wasn't until the company iRobot released the Roomba that robotic vacuums got a real following. From then on, interest in robotic vacuums has increased rather significantly – likely because of the introduction of other smart-home technologies.




Much like Kleenex and Q-Tips, Roomba is clearly the common household name for any robotic vacuum. This makes sense, considering they were the first company to have a largely successful robotic vacuum. However, they certainly are not the only manufacturer! You'll also notice that there's a trend spike almost every year – all of these spikes are actually in the month of December. From this it is obvious that robotic vacuums are still a luxury item.
There is an overall upward trend of robotic vacuum interest, which means people have more faith in the abilities and are more open to purchasing one.
---
Now Onto The Good Stuff
Alright, enough of the statistics and graphs. Let's get down to what you really want to know – are robots worth it? It all depends on what your vacuuming needs are.
First, let's look at a list of things that robots are good for:
Vacuuming large, open spaces with few obstacles
Vacuuming bare floors (linoleum, tile, hardwood)
Vacuuming low-pile carpet (berber – think typical apartment or bedrooms)
Maintaining a clean, dust-free environment
Vacuuming single floors
Now, let's take a look at what they aren't so good at:
Vacuuming cluttered, small spaces
Vacuuming multiple floors (we haven't seen one that climbs stairs – yet!)
Vacuuming high-pile or plush carpeting
Replacing all of your vacuuming needs
Most people will have a home that fits both categories. Does this mean a robot vacuum won't do a good job in your home? Not necessarily. If you have soft carpeting upstairs, you may want to keep the robot vacuum downstairs (which is a higher-traffic area, anyway), where it will serve its purpose by vacuuming up small crumbs and dust under the furniture. If you prefer to keep the robotic vacuum upstairs, some machines are capable of sensing ledges, so you won't have to worry about it taking a tumble down the stairs!
The biggest problem people run into with robotic vacuums is that they expect too much from them. A robot is small, so it won't really be able to pick up larger items, like pencils and hair ties. In addition, they will never be as effective as a quality vacuum cleaner you operate yourself. A robotic vacuum is a tool to keep your home clean, not to deep clean your home.
---
What Robot Should I Get?
This is where the disclaimer at the top of the post comes in. We're a little biased here, because we keep a robot running all day in our store – in particular, the Miele Scout RX1. We have found the Miele robot is extremely effective and user-friendly while still landing in the middle of the robot price range.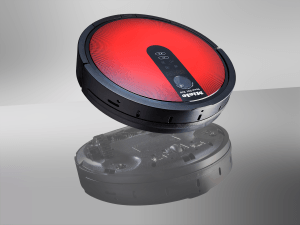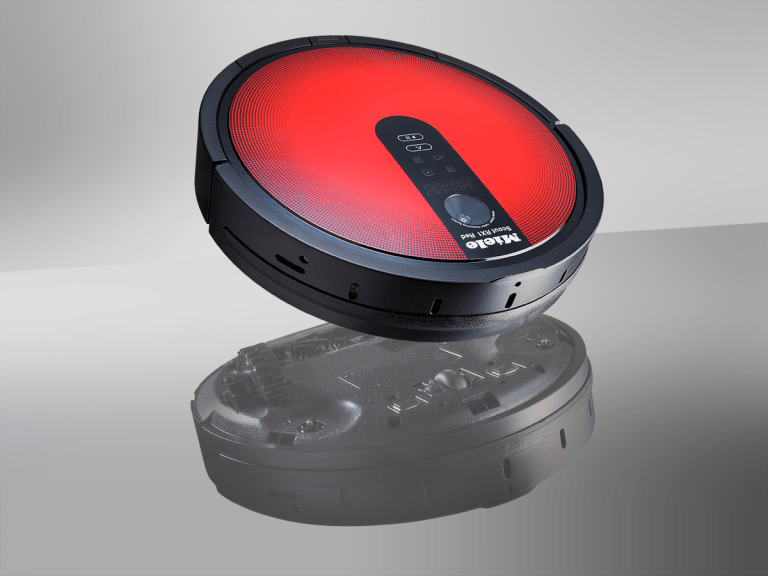 Why Miele?
We're big fans of Miele here. Miele is a German company that has been around for decades and makes some of the hardiest, most effective vacuum cleaners in the industry. Their robot vacuum is no exception to this rule. We've had our robot since its release in 2014 and run it every day. Their simple, minimalist approach is what really sets them apart.
The Miele robot is one of the few on the market that features sweeper arms that help guide dust and particles to the spinning brush on the bottom of the machine. In addition, it is one of the few robots that has a suction motor. Many other robots use only a spinning brush and momentum to collect dust and small particles. The Miele robot has a photo-eye to map the ceiling, which means it is more effective at vacuuming, and has several other sensors that prevent it from bumping and scratching furniture, or falling down the stairs. If you don't want the robot to go into a specific room or area, you can purchase special magnetic strips that the machine cannot pass. These strips even work when placed under a rug.
Our favorite thing about the Miele Scout is that they can be repaired. Should a component of the robot fail, new components can be installed. This is not the case with many other machines on the market – which means you'll be stuck shipping your robot back to the manufacturer – and you'll be footing the bill for that shipping.
Are the Expensive Robots Really Better?
Allow me to step away from the Miele and talk about objective differences in machines within varying price ranges. We frequently say that you "get what you pay for" when it comes to vacuums, with a few exceptions.
Low end robotic vacuums ($100 – $300) are a great starting point if you really are not sure about them. These machines are the most basic, but don't typically clean as well. They usually won't have sensors or a suction motor.
Mid-range robotic vacuums ($300 – $600) are going to have more bells and whistles. Most of these have a suction motor and sensors in one form or another. They will be less likely to bump into your furniture and are more effective at cleaning. These are typically the robots that have a higher customer satisfaction rate, as well.
High end robotic vacuums ($600+) are normally not going to have any major advantages over the mid-range selection. These typically have added functions that improve usability, but don't clean any more effectively. Robots in this range are ones that are Wi-Fi or smart-home compatible (Google Home, Amazon Alexa, etc.).
---
Whew! That was a lot of information to cover. Robots can be a great help to those who have pets or just aren't able to keep up on the vacuuming. They are definitely still a luxury item used purely for convenience, but they aren't just a toy. Hopefully this guide clarified any robot questions you may have had. If not, you know where to find us – you can always stop in to say hi to our robot (we named her Helga).
In other news, we are absolutely honored to receive the "Penfield Pride" Award from the Penfield Business Chamber – "The Penfield Pride Award recognizes a local business that rehabilitates an existing building, creates a vibrant new look, and becomes a positive addition to Penfield's proud community".  We sincerely thank everyone who helped made this happen, especially our customers who have supported us for all these years.
Sarah