New Stock Items!
(October 27, 2017)
By popular demand, we are now stocking a few new models of our favorite brands!
We understand it can be hard to compare vacuums when you don't get the chance to actually try them out. We're now displaying more models than ever (including some brand-new exclusives you won't find anywhere online) in our show room to give our customers a more accurate idea of what they need.
Another Floor Model Sale!
(October 27, 2017 – while supplies last)
Our floor models were such a hit this summer, so we're selling more!
We're selling our display machines at a deeply discounted price. All of these models are gently used with less than 15 hours of run time and most importantly, they come with ALL of the same accessories and warranty as a new, "in the box" model would!
Since these are floor models, we have a very limited supply – once they're gone, they're gone! Stop by sometime and speak to one of our technicians about your vacuuming needs, and try a few out while you're here!
Current Coupons:
Holiday season means a special coupon – take $5 off any purchase or service above $30! This coupon may not be stacked, and must be surrendered at the time of purchase.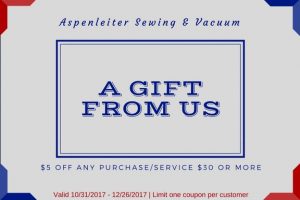 To print, click on the coupon you would like. Navigate to the options in your toolbar (normally the top right corner), and select print.